Blossom and Root is a secular literature-based homeschool curriculum that offers a flexible and affordable approach to learning.
As a certified teacher and second generation homeschooler, I love trying different curriculum products. We used Blossom and Root for pre-k and first grade and really enjoyed it. Let's dive in.
Blossom and Root is designed for children aged three through 6th grade that covers most subjects but it does not include any math after Kindergarten.
The program is based on the principle that children learn best when they are immersed in the natural world, and so it encourages parents to take their children outside to explore nature and collect specimens of plants, rocks, shells, leaves, etc., as well as to observe animals and birds in their natural habitat.
Disclosure: I purchased both the 1st grade language arts curriculum and the Early Years (Volume 1) with my own money. I was not compensated monetarily for this honest review.
➡️ Purchase Blossom and Root materials when you click here.
Is Blossom and Root a Good Curriculum?
A better question would be, "is Blossom and Root a good curriculum for my family"?
I personally enjoy Blossom and Root. It works well for my two children. We're currently using both the first grade language arts and the early years (volume 1) programs.
I find Blossom and Root accessible as a person with ADHD. I appreciate how flexible the language in the teacher guide is- giving me confidence in my own execution of the curriculum.
Blossom and Root worked well for our neurodiverse family. You can check it out here.
What type of curriculum is Blossom and Root?
Blossom and Root is a self-professed creative, nature-based, and secular homeschooling curriculum.
Their curriculum goes from Pre-K to 5th grade. They also have U.S. history and several mini units on various topics.
They are not aligned with common core nor do they attempt to align with any public school grading system.
Blossom and Root takes its approach from the world around us: It is based on the idea that children learn best through nature, so their curriculum uses natural materials wherever possible (like story stones, below).
➡️ Check to see if Blossom and Root is right for your family here.
Who Writes Blossom and Root?
The creator, Kristina Garner, is a homeschool mom and former Kindergarten teacher and director. Her materials reflect her thorough understanding of early elementary education.
She is a former teacher and has spent over 15 years working in schools as both an instructor and director before writing the Blossom and Root curriculum.
Kristina was so kind to respond to my questions about her experience. Here's what she said:
More Questions about Blossom and Root
Is Blossom and Root Open and Go?
Although Blossom and Root is a great open and go program and I highly recommend it especially for people new to homeschooling, you will have to source the recommended books AND supply a math curriculum as no math is provided after kindergarten.
Although Blossom and Root contains most of the subjects that you need for an entire curriculum, you do have to prep some materials to make it a completely "open and go" experience.
Some prep and additional materials are required. Here are some important notes:
No math after Kindergarten
You must source the books from the recommended list
Some materials may need to be purchased or sourced from nature (rocks, peg dolls, staging materials like moss, ABC tiles)
I have found their 'word lists' for each week to be perfect for spelling work, while their handwriting pages come in print and cursive which is great for my daughter who hasn't decided which she prefers.
➡️ Purchase Blossom and Root for your elementary student here.
Is Blossom and Root Religious?
No. Blossom and Root is secular. They choose resources that have no mention of religion unless as a feature of history, culture, or anthropology.
In their suggested reading list, they give parents a heads' up if the material references a religion. They also give multiple books to choose from depending on your family's personality.
Blossom and Root could easily be used by a religious family with minimal adaptation.
➡️ Check out material for grades Pre-K through 6th here.
Is Blossom and Root Montessori?
No, Blossom and Root is not a Montessori program. But they are a nature-based school that offers science lessons throughout all grades.
Blossom and Root does not completely align with a specific homeschooling style (besides secular).
Rather than Montessori, Blossom and Root seems to follow Charlotte Mason and Waldorf in that they're built on literature studies and incorporate a great deal of nature.
The author, Kristina, says that both Charlotte Mason and Waldorf methods have influenced her personal homeschooling style.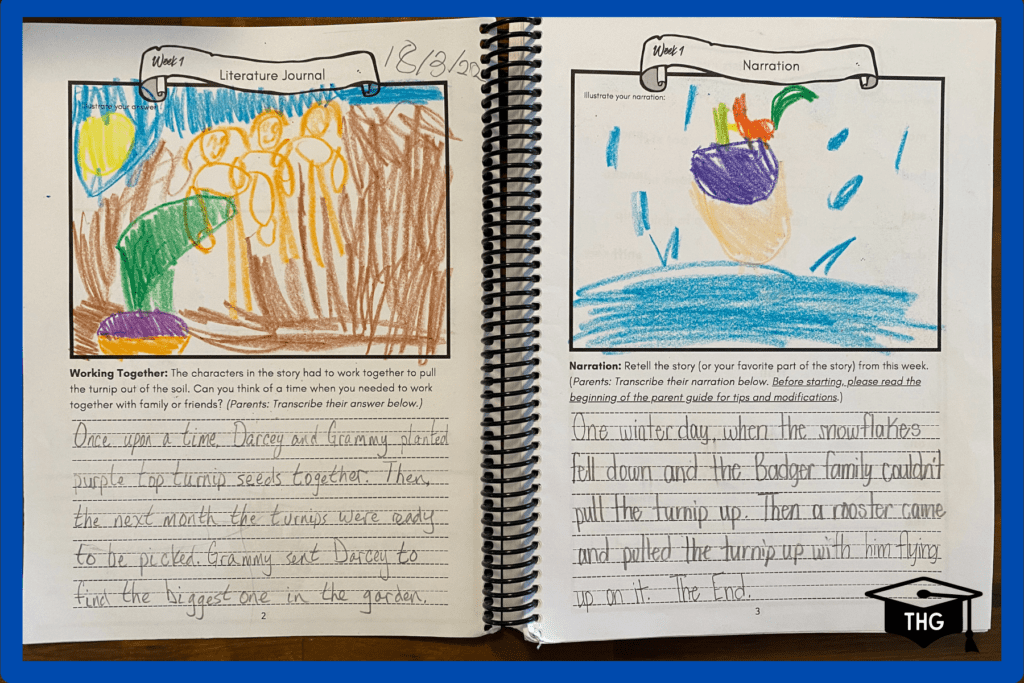 Blossom and Root History
What I love about Blossom and Root's history, A River of Voices: Volume I, is that Kristina hired homeschooler and Apache Lipan representative, Kelly Reagan Tudor, to collaborate.
If you value resources that prioritize 'Own Voices', then you will definitely appreciate Blossom and Root's history curriculum.
See what Blossom and Root has to offer when you click here.
Blossom and Root Science
Science is nature and literature based. It includes a student notebook as well as nature notebook.
This science curriculum is for parents who want their kids to have an open-ended exploration of the subject. It's not for homeschoolers who want workbooks versus hands-on activities.
Discovery, creativity, imagination, and a solid foundation in reading and writing is what your child will get out of a year using Blossom and Root science.
Early Years Volume 1: 1x Week Playful Early Science Activity
Early Years Volume 2: 1x Week Hands-On STEM activity
First Grade: Wonders of the Earth and Sky
Second Grade: Wonders of the Plant and Fungi Kingdom
Third Grade: Wonders of the Animal Kingdom
Fourth Grade: Wonders of the Physical World
Fifth Grade Part 1: Wonders of the World Beyond (Oceanography)
Fifth Grade Part 2: Wonders of the World Beyond (Astronomy)
Pros of Blossom and Root Curriculum
✅ Flexible
✅ Affordable
✅ Intentional about choosing diverse resources
✅ Consulted with Indigenous expert to create the US History product, A River of Voices
✅ Anti-racism resources for parents
➡️ You can purchase Blossom and Root curriculum here.
Cons of Blossom and Root Curriculum
Although we love Blossom and Root, if you're looking for a complete homeschool curriculum just know that you will have to substitute your own math after kindergarten.
❌ No math after Kindergarten (We supplement with Beast Academy and Math Seeds)
Blossom and Root Negative Reviews
Complaints I've heard from other homeschoolers are that it's not as organized as they'd like (leading me to think that they want a scripted curriculum).
I've also heard families say that Blossom and Root's content didn't hold their child's interests or didn't work for their personality.
I recommend printing off the free downloads or buying one piece of the curriculum to see if it's a good fit before purchasing an entire year's worth of curriculum.
💡 Pro Tip: If you join a secular facebook group, many members will post their opinions about curriculum they are using. Just don't get trapped into indecision! Go with your gut.
✅ Blossom and Root has tons of positive reviews from homeschooling families. It works really well for our Neurodiverse household and I love the flexibility it offers me as a mom with ADHD.
No one curriculum product will work with every kind of learner or parent. If you're looking for something scripted, strictly organized or with step-by-step parental guidance, then it may not be a good fit for you.
Oak Meadow Vs Blossom and Root
There are many similarities between Oak Meadow and Blossom and Root. Both are secular and both are at least partially influenced by the Waldorf method.
What's the difference between Blossom and Root and Oak Meadow?
Oak Meadow offers all subjects including math and goes through high school; Blossom and Root's curriculum goes through 5th grade and does not include math past Kindergarten.
Both companies offer secular homeschool curriculum for independent family use. Oak Meadow also offers an accredited distance learning program for an additional tuition fee.
You can see what's included in a full bundle when you click here.
Blossom and Root vs The Good and the Beautiful
Right off the back, Blossom and Root cannot be compared equitably with The Good and the Beautiful because they are based on entirely different ideologies. Blossom and Root is secular, while The Good and the Beautiful is a Christian, specifically Mormon, curriculum.
Although Blossom and Root only goes up to 6th grade, The Good and Beautiful has materials through high school.
Although a Christian family might easily adapt Blossom and Root for their religious homeschool program by replacing recommended books that do not follow their belief system, it would be extremely difficult for a secular family to adapt The Good and the Beautiful for their program because Christian theology is embedded throughout all of the materials.
FAQs
Does Blossom and Root include math?
Blossom and Root includes math, but only through kindergarten. Starting in first grade, you will need to source your own math curriculum when using Blossom and Root.
Does Blossom and Root teach phonics?
Blossom and Root does not explicitly teach phonics.
What curriculum is like Blossom and Root?
Blossom and Root is a very gentle, flexible curriculum that is similar to other Waldorf inspired products. Brave Writer is similar in nature to Blossom and Root.
Recap: Blossom and Root Curriculum
Blossom and Root offers preschool, kindergarten, and grades 1 – 5. They also offer U.S. history and several Book Seed issues (STEM mini-units.)
The scope and sequence for each level is the best place to find a list of what is covered; however Blossom and Root does not design their materials to align with what public schools cover in each grade level.
All products are digital and upon purchase, you should see a prompt to download or view your files at the same time as you see your receipt.
Click here to check out Blossom and Root's curriculum for your child.